Glass bead making workshop.
May 3 (Thu) – 6 (Sun)
@Takuminohako shop in 2k540 Aki-Oka Artisan.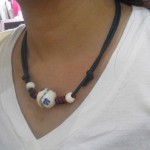 In the Takuminohako, we welcome Mrs. Midori Sato of Glass bead making artist and hold a Glass bead making workshop!
Why do not you try making yourself a Glass bead that shows various colors in the glass?
Midori Sato can also make it by order made.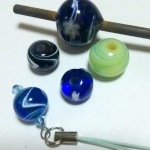 ■ Glass bead making workshop procedure
① Sprinkle on a stainless steel bar while melting the colored glass rod with a burner.
② The stainless steel rod keeps turning while keeping it parallel from the beginning to the end.
③ You will put a pattern when it becomes a circle of the size you want.
④ When it is completed, put it in the coarse ash and cool it.
⑤ Remove it from the ash after cooling, remove it from the stainless steel bar and wash the inside of the hole.
⑥ We will finish the necklace and straps made by your request.(A strap fee will be charged separately)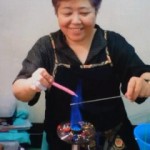 【Workshop fee】3,780Yen/1 piece
6,480Yen/2 pieces
8,640Yen/3 pieces
10,800Yen/4 pieces
12,960Yen/5 pieces
【Date and time】 May 3 (Thu) – 6 (Sun)
【Time】Please make a reservation at any time from
12: 00 – 17: 00.
Please also inform me of the number of hope. You can   change it later.
※Glass bead needs time to cool, so takeaway will be    around 30 minutes to 1 hour after completion of the     work.
■For those who wish to apply please fill in the following items and email us.
Participation with friends is also greatly appreciated.
Of course, participation from one person is OK.
①Name of participant
②Contact phone number
③E-mail
④Desired date and time
takuminohako@gmail.com
Takuminohako shop
5-9-10-G2,Ueno,Taito-ku,Tokyo
Homepage
http://www.takuminohako.com/