Dyeing workshop of persimmon juice shawl. Come join us!
April 27th(Fri)
@Takuminohako shop in 2k540 Aki-Oka Artisan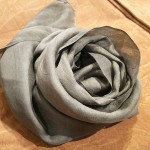 On April 27th (Friday), in the Takuminohako shop, We will perform a tie-dyeing workshop with a persimmon tanning craftsman!
Anyone can easily draw tie dye. Please feel free to join us. Children's participation is also waiting!
In addition, On April 26th (Thursday) to May 7th (Monday), We will hold an event and sale of Mimasu's persimmon products in Kyoto!
This time, a persimmon juice dyed craftsman who learns persimmon making as the third generation of family business, making persimmon seedlings as raw material, nurturing persimmon farms, all raising oneself.
Let's bind the shawl with rubber bands, draw tie, and try making original works.
The persimmon juice dye shawl is gentle to the skin, hygienic, due to the antimicrobial effect of persimmon.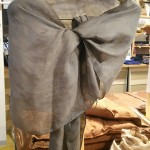 【Procedure】
① You shrink shawl with threads and rubber bands.
② You dye it with iron roasting liquid.
③ Please wash at your house, please use.
【Price】 8,640yen(Silk100%  Size41cm×160cm)
【Date】 April 27th(Fri)
【Workshop start】 11:30~、15:00~
Each time is about 30 minutes to 1 hour.
you can join in the middle.
【Product sale date】 March 21 (Wed.) to 27th (Tue.)
April 26th (Thu.) to May 7th (Mon.)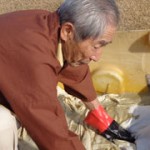 ■For those who wish to apply please fill in the following items and email us.
Participation with friends is also greatly appreciated.
Of course, participation from one person is OK.
①Name of participant
②Contact phone number
③E-mail
④Desired date and time
takuminohako@gmail.com
Takuminohako shop
5-9-10-G2,Ueno,Taito-ku,Tokyo
Homepage